The Tampa Bay Business Journal article was written by By Ashley Gurbal Kritzer  –  Senior Reporter, Tampa Bay Business Journal
Walk through any of Tampa's most popular shopping and dining destinations, and it's hard to believe that a year ago, most experts were predicting a looming crisis for those properties.
In spring 2020, the novel coronavirus pandemic had the U.S. in its grip, and dining rooms, gyms and non-essential retail remained closed in favor of online ordering and streaming. The fate of projects that were already underway hung in the balance; most experts predicted that financing for new retail and hospitality developments would be nonexistent for months if not years to come. Investors were ready to pounce on a coming glut of retail foreclosures.
One year later, the Covid doomsday forecasted for retail and hospitality properties hasn't arrived — at least in Florida, where Gov. Ron DeSantis reopened the state in mid-May after a 30-day "safer at home" policy. Restaurants, gyms and retailers operated at limited capacity until Sept. 30, when DeSantis declared the state entirely reopened.
The strategy hasn't come without criticism from public health experts, but retail and hospitality developers have championed the state as a place where those businesses can thrive — even as they've been decimated in places with more stringent Covid policies.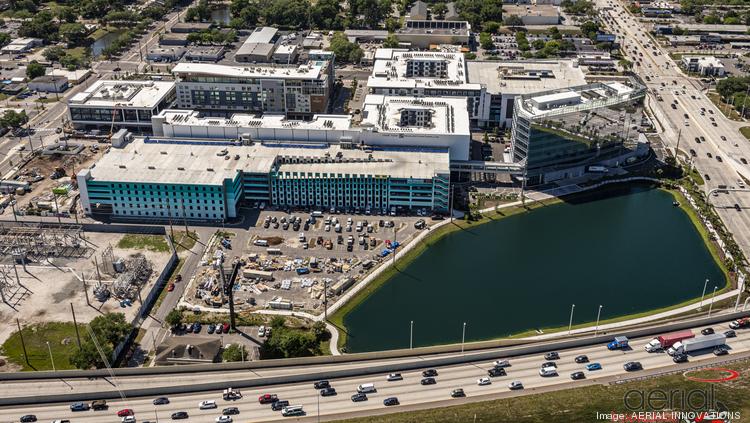 The entire state has benefitted, but Tampa Bay in particular has emerged as one of the hottest post-pandemic markets in the U.S. for everything from housing to new hotels. While new retail construction has slowed, the overall market is strong: CoStar Group Inc. reports that the retail vacancy rate in the Tampa area is just 4%.
The developers of the mixed-use Midtown Tampa, at the interchange of Interstate 275 and North Dale Mabry Highway, say Tampa is now in the top five markets under consideration for retailers and restaurants looking to expand. Before the pandemic, the area was lucky to be in the top 15 markets in the running.
"These days, people are understanding Tampa," said Nicholas Haines, CEO of Bromley Cos., the developer of Midtown Tampa. "New York banks unfamiliar with Tampa are calling us. A lot of New Yorkers are in Palm Beach or Miami — that part of Florida is really well vetted by the finance industry in New York. But I think people know now that the west coast of Florida is a great place to do business."
Minnesota-based salad chain Crisp & Green announced its Florida expansion earlier this year, with plans for eight to 12 stores in the Tampa Bay area. And while the chain is bullish on this region, it's not an easy market to enter right now.
"It's one of the most competitive retail markets in the country," CEO Steele Smiley told the Business Journal in March. "The availability of great real estate in your market makes it one of the most challenging in the country."
Developers were leery of retail construction before the pandemic, and there was a dearth of new construction even before the virus arrived on U.S. shores. The pandemic accelerated consumer spending on online shopping by several years, and now the amount of space under construction in the area — over 416,000 square feet, according to CoStar — is below the national average.
Retail leasing is also down, said Brian Alford, Florida director of market analytics for CoStar.
"So, a handful of things to keep an eye on," Alford said, "but Tampa is still one of the nation's strongest retail markets and is in relatively good shape compared to what we expected 12 to 14 months ago."
There were a few blips in the leasing activity at Midtown Tampa — but most were related to struggles that prospective tenants were having elsewhere, particularly in the Northeast, and not the project itself, said Mark Fallon, who handles leasing for the property. His firm, Cincinnati-based Jeffrey R. Anderson Real Estate, is a partner in the retail portion of Midtown.
"This time last year, the mentality was, the sky was falling," said Fallon, senior vice president, "and it didn't happen here, but it did happen in other areas.
"Fast forward to today, I'm 96.5% preleased with three small spaces left, and I say no to more people than yes right now."
• • •
As business and leisure travel ground to a halt in early 2020, hotels were also facing a dire outlook. And for several months, times were tough: Hotels laid off workers by the hundreds throughout the spring and summer months.
But tourists are coming back to Tampa Bay — and have been for some time — and the region's hotel sector has "bounced back relatively quickly compared to most parts of the country," Alford said. CoStar's data shows that occupancy rates are down compared to pre-pandemic levels, but 2021 has seen hotel traffic pick up considerably.
In March, hotel occupancy was over 77%. The pandemic bottom, according to CoStar, was April 2020, when occupancy was around 23%.
The year also saw 1,811 new hotel rooms built — the most in any one year in more than three decades, according to CoStar.
"Tampa's peak seasonal hospitality demand is during February through April, and we also saw an additional bump from the Super Bowl," Alford said. "Pinellas County hospitality has outperformed Hillsborough, and most of the beach-driven hotels have roughly normalized to pre-pandemic levels."
The market will add nearly as many rooms in 2021, with 1,764 set to wrap up construction by the end of the year. The vast majority of that construction is in and around downtown Tampa; the JW Marriott in Water Street (completed in 2020) has more than 500 rooms, and the Edition Tampa will add 172 rooms.
"Tampa remains in the midst of one of its largest hospitality supply waves on record," Alford said.
If the region's post-pandemic buzz is any indication, those new rooms won't sit vacant for long.